Local and National Union News
Hoffa on trade with China: "They're keeping us out"
May 16, 2019 | Hoffa discusses the impact of President Trump's tariffs, and what should be done to get tough with China on trade, during interviews with Ali Velsh of MSNBC and Judy Woodruff of PBS NewsHour… Teamsters
Monthly membership meetings suspended for the summer months
May 13, 2019 | Local Union members attending yesterday's monthly membership meeting approved a motion to suspend the monthly meetings for the summer. The action follows a long tradition that recognizes members and their families are away on vacation most often during the summer months. Our next general membership meeting will be held Sunday, September 8, 2019, at the Local 570 Union Hall.
Teamster leaders gather for Unity Conference
May 8, 2019 | With major challenges facing workers and the 2020 elections looming, the importance of mobilizing members is more critical than ever, Teamster leaders heard at the annual Unity Conference taking place in Las Vegas, Nev. Leaders have been attending important divisional meetings, where they are hearing about the latest issues facing workers and the union, and strategies for winning. The meetings continue today and Thursday … Read more at teamster.org
Teamsters back effort to revamp federal labor law to benefit workers
May 3, 2019 | "The Protecting the Right to Organize (PRO) Act will restore fairness to the economy at a time when income inequality has stifled the ability of far too many hardworking Americans to earn a decent wage that allows them to support their families," General President Jim Hoffa said in a statement issued yesterday. The legislation that would comprehensively update the National Labor Relations Act was introduced yesterday in the U.S. House of Representatives by Rep. Bobby Scott (D-Va.) and Sen. Patty Murray (D-Wash.). Read more at teamsters.org And from Intelligencer: [The PRO Act] would ban employers from forcing hires to sign away their right to pursue collective or class-action litigation and from permanently replacing workers who go on strike. It would also require employers to begin bargaining a contract no later than ten days after a union has been certified...
Older news stories can be found at Local News
| | | |
| --- | --- | --- |
| | | |
| | | |
| | | |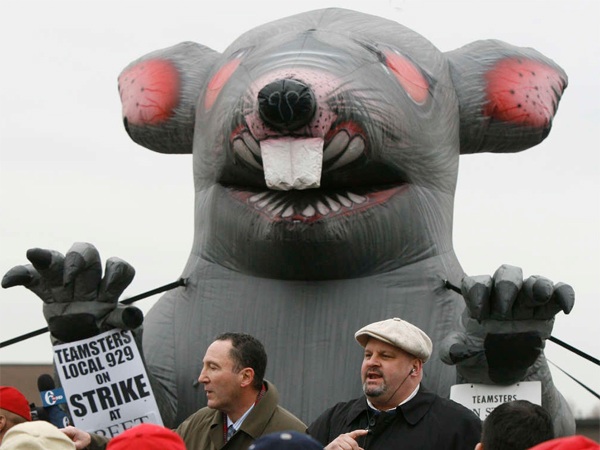 May 20, 2019 |

WORKERS' RIGHTS

| … a range of new threats to union protections is being met with large-scale protests and grassroots organizing, from picketing school teachers to striking ride-share drivers. But as battles over union rights transpire at the local and federal levels, an unexpected figure has come into focus: a giant inflatable rodent… Now, the NLRB, which governs the private sector, is trying to limit Scabby's use as part of a wave of anti-union decisions by business-friendly Republican members. As the decision over Scabby and other union practices play out, looking at the rat's history reveals how the NLRB and labor law has always been enmeshed with partisan politics… Working In These Times
May 20, 2019 |

U.S. LABOR UNIONS

| […] Unions help to reduce inequality by pushing for higher pay for typical workers, greater restraints on executive pay and increased taxes on the rich. Another study found that a 10% increase in the percentage of unionized workers in a US community is associated with a 3% to 4.5% increase in the income of all the area's children — partly because unions push for better schools and a higher minimum wage… CNN
May 16, 2019 |

TRANSPORTATION NETWORKS

| The Teamsters know a little something about infrastructure. Approximately 600,000 of our members drive the nation's roadways as part of their job. And we have tens of thousands of members who work on railroads and aircrafts delivering passengers and goods to their final destinations. These same workers have witnessed firsthand the decline of the nation's transportation network. Crumbling roadways and bridges, cracked rails and overcrowded airports and public transit systems plague travelers and commuters from coast to coast, endangering the lives and livelihoods of millions of Americans. The U.S. economy suffers because of it… Teamster.org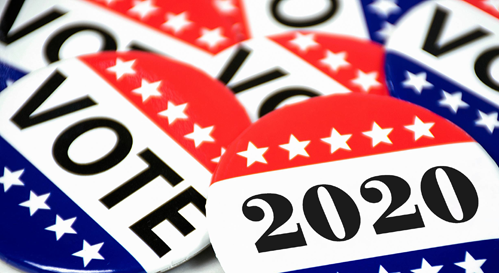 May 14, 2019 |

OPINION

| As the 2020 primary season heats up, presidential candidates in the massive Democratic field — from Bernie Sanders and Elizabeth Warren to Amy Klobuchar and Joe Biden — are vying for critical support from labor unions. Don't dismiss this as typical election posturing. Those of us who have watched the labor movement's ebbs and flows over the past few decades know things have changed. Democrats' actual support for labor unions has fluctuated wildly in recent decades. The failure to focus on economic insecurity and the industrial heartland in 2016 allowed anti-union Republicans to make gains among union voters…

USA Today