Local and National Union News
Baltimore officials issue 'Code Red' heat emergency


July 16, 2019 | The heat index is forecast to surpass 100 degrees in and around Baltimore this week, prompting city health officials to declare a "Code Red" heat emergency. High temperatures are forecast in the lower to mid-90s Tuesday through Thursday, and then could approach 100 degrees Friday and Saturday. Factoring in humidity, which is forecast to rise over the course of the week, it's expected to feel like about 100 degrees for the middle of the week and potentially close to 110 degrees Friday and Saturday… Baltimore Sun Get the Teamster facts on heat stress.
Teamsters stand in solidarity with striking Amazon workers
July 15, 2019 | Teamsters across North America stand in solidarity with the Amazon fulfillment workers striking in Minnesota. Similar to workers moving Amazon goods, many of our 1.4 million members pick and stow product in warehouses, drive trucks, and deliver packages and have fought for decades to win better working conditions, respect, and a voice on the job. This fight is ongoing. Amazon workers in Germany, Italy, Spain, Poland, France, and the United Kingdom have also engaged in numerous protests, strikes, or other activities to demand their rights and as Teamsters, we support this growing worker-led movement. Every worker deserves… Teamsters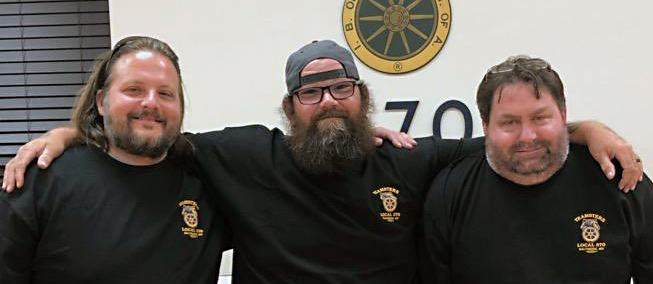 At Local 570's Open House & Cookout held June 23, 2019, two days before the successful election at Petro Home Services: (L-R)
Scott Wojechowski, organizing lead, Petro Home Services;
Arnold Miller, lead organizer and alternate shop steward, Carroll Home Services;
Alvin Mason, shop steward, Carroll Home Services.
Petro Home Services technicians chose Teamsters
July 12, 2019 | Local 570 welcomes 34 plumbers, installers and service technicians employed at Petro Home Services who voted overwhelmingly in late June to join become Teamster members. Pedro is a full service home heating oil supplier. Negotiations are underway for their first contract. (The company's fuel delivery drivers are also Local 570 members.) In other Local news, a new four-year contract covering plumbers, installers and service technicians at Carroll Home Services was ratified in June. The agreement provides substantial wage increases, enrollment in the Teamsters 570 Health Insurance Plan at no cost to members... Continue reading at Local News
Conference labor panelists say workers want focus on economic issues
July 12, 2019 | Speaking on a panel at the Netroots Nation conference sponsored by the Teamsters, a trio of radio personalities well-versed in politics and policy said presidential contenders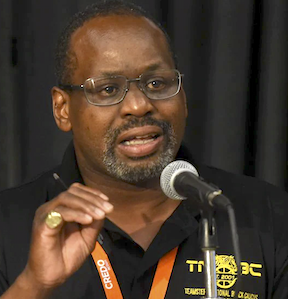 need to put workers first and address their concerns if they want to prevail in November 2020. Bread-and-butter issues like good-paying jobs are paramount. James "Curb" Curbeam, left, the union's Southern Region Organizing Coordinator and Chairman of the Teamsters' National Black Caucus, said workers want to see candidates focus less on social issues and spend more time talking about topics that will put more money in their wallets. "Blue-collar workers want someone to stand up for them and fight for them," he said. "We need people who are going to stand up for all Americans, not just a handful."… Teamsters Photo/Anthony Pezzotti, Philadelphia Inquirer
Older news stories can be found at Local News
| | | |
| --- | --- | --- |
| | | |
| | | |
| | | |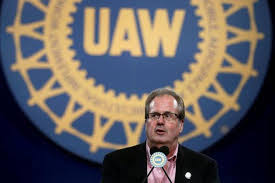 July 16, 2019
|

STRIKES

|
The United Auto Workers union is set to start bargaining new contracts covering 150,000 workers at Detroit's Big Three on Monday in what could be the most contentious negotiations the auto industry has seen in years. The union will be looking to make significant gains over the most recent four-year contracts with the companies, ratified in 2015. Automakers are looking to cut labor costs relative to foreign competitors building cars and trucks inside the U.S. with lower-earning workers. Industry-watchers believe the starkly different expectations create the possibility of a major strike…
Huffington Post
July 15, 2019 |

LABOR HISTORY

| We've all had one of those days when the clock seems frozen in time and the workday drags on, and on, and on. Eight hours can feel like a lifetime, the minutes crawling by, your mood souring by the second. Now imagine how much worse you'd feel if you had been standing on a hard factory floor for eight hours already and were staring down two more hours, or four, or even more than that? And what if you were pulling those kinds of interminable days six times a week—or seven? That's what a typical day used to be like for the typical worker in an American city… Teen Vogue
July 11, 2019 |

NATIONAL LABOR RELATIONS BOARD

| National Labor Relations Board Chair John Ring has filed a formal complaint against agency Inspector General David Berry, the official who got a 2017 NLRB decision reversing an Obama-era "joint employer" rule voided. Ring's complaint to the panel overseeing federal inspectors is that Berry allegedly treated agency employees harshly. But three current and former senior NLRB personnel and four congressional staffers, speaking to Bloomberg Law on condition of anonymity, said Ring's main motive is replacing Berry with someone more compliant with the Trump administration's anti-union agenda… Labor Press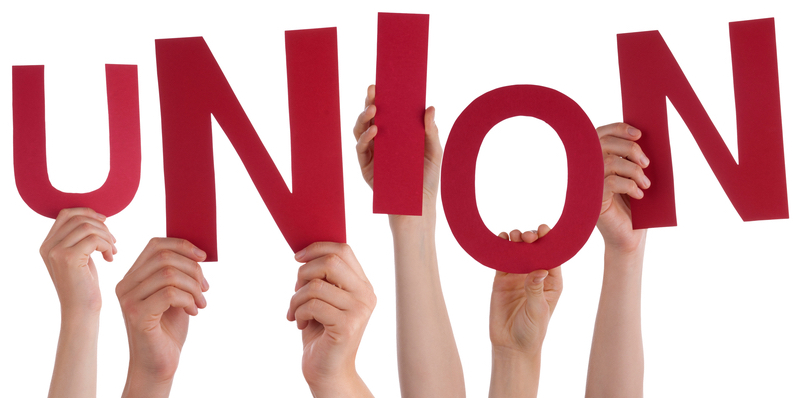 July 10, 2019 |

VOTE 2020

| By this point, we're all aware of how quickly and easily political misinformation can spread. Whether it comes from a concerned friend or a Russian bot, fake news can easily infest your social media feeds, and perhaps influence your vote. The only way for a population to survive this plague is to be better informed. New research identifies one way to accomplish that goal: increasing union membership. "Union members, particularly those with less formal education ... are significantly more politically knowledgable than their non-union counterparts," tending to be "better informed about where political parties and candidates stand on the issues"… "Union members engage in more frequent workplace discussion of politics" than non-members… Pacific Standard