Local and National Union News
Guidelines: The Union's role in workplace preparation
Apr. 7, 2020 | Under the law, it is the employer's responsibility to provide a safe and healthy workplace. The union's role is to make sure the employer takes action. The Teamsters Safety & Health Department issued this updated fact sheet (PDF) outlining some actions that the Union can take to help make your employer ready.
Health Care Members: Please take the Teamsters Health Care Division survey
Apr. 3, 2020 | Teamsters are on the front line of the COVID-19 response. In this crisis, thousands of Teamster health care workers—from nurses to respiratory technicians to American Red Cross workers and more—are, as always, united. The Teamsters Health Care Division is asking health care members to take a couple of minutes out of your very busy schedules to fill out this important survey to tell us how you are impacted. Responses are confidential and will assist us with member representation through a national and regional perspective on the work and challenges that front-line members face. Click here to complete the survey.
A message from Teamsters Passenger Transportation Divison
Apr. 3, 2020 | In a message today Passenger Transportation Director Rick Middleton wrote: "As the coronavirus (COVID – 19) spreads, your Teamster representatives are working relentlessly to ensure the safety and security of our membership in the Passenger Transportation Division. We are available to address any issues that have come about as a result of this unprecedented calamity. First and foremost, I would like to say that the way our members in this division are affected by COVID – 19 vary widely from case to case: the company you work for, people you provide services for and the state you live in all have an impact on how your job may or may not change because of the pandemic. You should reach out to your shop steward, business agent or other local union representative for the most specific and comprehensive information available regarding your specific circumstances for this very reason… Continue reading
Update from the Teamsters Safety & Health Department
Apr. 1, 2020 | The staff at our Union's headquarters are working around the clock to stay ahead of rapidly evolving situations related to the COVID-19 pandemic. Advisories and industry-specific fact sheets that keep you up-to-date on legislative policy developments around the pandemic continue to become available for download. Read the latest Unemployment and Paid Sick & Family Leave Protections.
March/April issue of shop steward newsletter now online
Apr. 1, 2020 | Until further notice, delivery via the USPS of the steward's newsletter, On the Front Line, is suspended. Stewards may view the current issue here.
Update from the Building Material & Construction Trade Division
Mar. 31, 2020 | Most construction projects are still ongoing with measures in place to help protect the workers such as thorough cleaning of turnstiles and handrails. All pipeline construction training courses are being postponed until later this year. Please check here for more information.
Older news stories can be found at Local News
| | | |
| --- | --- | --- |
| | | |
| | | |
| | | |
Apr. 7, 2020
|

SAFETY & HEALTH

| Nurses in the emergency room at DMC Sinai-Grace Hospital took a stand late Sunday night against what they said are dangerous working conditions that put them and their patients at risk. Salah Hadwan, a registered nurse in the emergency department at Sinai-Grace, which is in the northwest section of Detroit, the city hardest hit by the coronavirus outbreak in Michigan, said the surge in extremely sick patients coupled with nurses who have quit or been sickened by the virus, led to a crisis in staffing…"When there aren't enough troops to fight this fight, what do you do? You retreat." said Nina Bugbee, president of the Teamsters Local 332, which represents radiologists and respiratory therapists at McLaren Flint Hospital. "These workers who appear to be walking away, aren't really," Bugbee said. "This is not something they want to do, but they are saying, 'This is bigger than what we can handle. You have to give us the weapons to fight this, or we will lose this war.'"…
Bridge/Michigan Health Watch
Apr. 2, 2020 |

COVID-19

| Maryland Gov. Larry Hogan issued a stay-at-home order Monday to help stop the spread of the coronavirus. Although the order largely didn't change anything since the Republican governor had already ordered severe restrictions that closed schools, colleges, sit-down restaurants, malls, casinos, gyms, theaters and nonessential businesses. And the governor previously had banned gatherings of more than 10 people. We've highlighted 10 of the most frequently asked questions Ricci has answered on Twitter since Hogan issued the order… Local News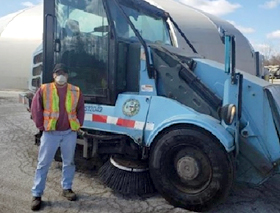 Apr. 1, 2020 |

SAFETY & HEALTH

| Our country is currently facing unprecedented uncertainty due to the ongoing coronavirus pandemic. It is not only threatening our health but our wallets as well. Many workers are rightfully worried about the future. There are no easy answers. But the Teamsters are doing all they can for their members and all workers to make sure they are protected so they can continue to care for their families. That means advocating for their wellbeing in the workplace before Congress. The Teamsters represent more than 50,000 health care workers. It goes without saying that their safety and that of all those in the medical field is paramount as they tend to the tens of thousands of Americans currently with COVID-19. Thankfully, Capitol Hill lawmakers took a substantial step towards attending to their need for additional personal protective equipment (PPE) when they approved stimulus legislation last week. But there are still many essential workers whose health and safety has not been addressed…

Detroit News
Apr. 1, 2020 |

WAGES

| Equal Pay Day calls attention to the persistent moral and economic injustice working women face. For a woman to earn as much as a man, she has to work a full year, plus more than a hundred extra days, all the way to April 10. The problem is even worse for women of color, LGBTQ women and part-time workers. Here are 11 things you need to know on Equal Pay Day… People's World