Local and National Union News
Teamsters Union endorses Hillary Clinton for President
Aug. 30, 2016 | The Teamsters General Executive Board last week unanimously voted to endorse the former senator and secretary of state. "We are proud to endorse Hillary Clinton for President of the United States," said Teamsters General President Jim Hoffa. "She is the right candidate for the middle class and working men and women across the country. She will stand strong for the workers of America by fighting to reject job-killing trade deals, enforcing labor laws and working to provide retirement security for millions of people who have sacrificed so much for the chance to retire with dignity…" teamster.org
Watch last week's Teamster Leadership Debate
Aug. 30, 2016 | Fred Zuckerman and Ken Hall, candidates for Teamster top offices, participated in a debate last Thursday at the National Press Club: c-span.org
Baltimore's Democratic City Council kills $15 minimum wage bill, for now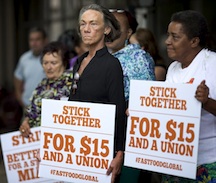 Aug. 17, 2016 | The Baltimore City Council derailed a proposed increase in the minimum wage to $15 an hour Monday, highlighting the ambivalence among many Democratic Party leaders over whether to support the national Fight for $15 movement. Pro-business members on the all-Democrat 15-member council were able to hold together an alliance against the higher minimum wage and voted 8-6 to return the proposed legislation to committee for revision. The maneuver appears to have effectively killed the bill, at least for this year. inthesetimes.com
Update: New contracts at Costco, National Gypsum, Potts & Callahan
Aug. 16, 2016 | Costco members (and their counterparts in New York and New Jersey) overwhelmingly ratified an agreement under which they will be covered by the Western Conference of Teamsters pension plan for the first time in the history of their membership. Continued…
National Dems back $15 min. wage. Baltimore Dems, not so much
Aug. 12, 2016 | The bill is in real danger of failing, Councilman Robert Curran told In These Times, as advocates for the legislation have been unable so far to line up the required eight votes for final passage.
Code red heat warning in Baltimore
July 25, 2016 | The Baltimore health commissioner is urging residents to prepare for 100-degree heat on Monday that could pose dangers for the young and elderly. The temperature is forecast to reach as high as 100 degrees, but it could feel as hot as 109 with humidity and wind factored in, according to the National Weather Service… baltimoresun.com Read the Teamster fact sheet on heat stress here.
Older news stories can be found at Local News
| | | |
| --- | --- | --- |
| | | |
| | | |
| | | |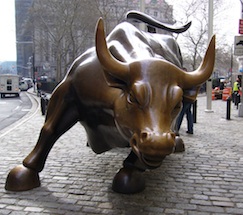 Aug. 30, 2016 |

OPINION

| Instead of griping about the greedheads of Wall Street and the rip-off financial system they've hung around our necks – why don't we "Take on Wall Street"? … "Take on Wall Street" is both the name and the feisty attitude of a nationwide campaign that a coalition of grassroots groups has launched to do just that: Take on Wall Street. The coalition, spearheaded by the Communication Workers of America, points out that there is nothing natural or sacred abut today's money-grabbing financial complex… For starters, the campaign has laid out a five-point people's reform agenda and are now taking it to the countryside to rally the voices, anger, and grassroots power of workers, consumers, communities of color, Main Street, the poor, people of faith – and just plain folks. alternet.org
Aug. 18, 2016 | OPINION | …and that's the problem. One of the many questions to be decided in this election is the future of U.S. labor policy. Unions entered the race with high hopes, having recently made big gains. They had won rising support for the $15 minimum wage, reformed overtime rules and dodged a potentially devastating blow from the Supreme Court, which, had it not been for the death of Justice Antonin Scalia, undoubtedly would have crippled Labor's ability to collect fees from millions of public sector workers who benefit from union contracts. But any hope of translating such victories into a broad union revival hinges on the outcome of the election… washingtonpost.com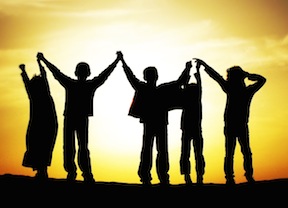 Aug. 17, 2016 |

WORKING FAMILIES

| …It is in unions that a communal spirit wins out over a narrow self-interest. In unions, working people hone a sense of obligation to one another. In unions, working people build a fierce loyalty to a vision of a shared economy that honors and respects them, and where labor it treated with dignity. It is in the experience of union democracy that men and women shape their political visions. Unions are the place where the fundamentally conservative beliefs and the fundamentally radical orientations of working-class Americans can be integrated into a true and coherent populist politics that is neither conventionally left nor right… alternet.org
Aug. 16, 2016 |

WAGES

| In dollar terms, what group of Americans steals the most from their fellow citizens each year? The answer might surprise you: It's employers, many of whom are committing what's known as wage theft. It's not just about underpaying workers. They're not paying workers what they're legally owned for the labor they put in. It takes different forms: not paying workers the federal, state, or local minimum wage; not paying them overtime; or just monkeying around with job titles to avoid regulations. … Research suggests American workers are getting screwed out of $20 billion to $50 billion annually… theweek.com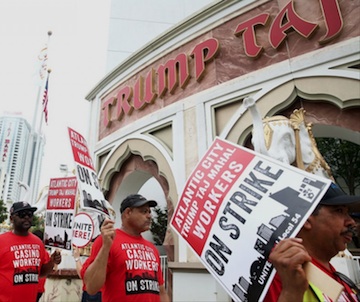 Aug. 11, 2016 |

WORKERS' RIGHTS

| … The [ongoing] Trump Taj Mahal strike is an important moment for us all because these workers are on the frontline against forces that threaten us all and that lay bare what a Donald Trump presidency would have in store for millions of American workers. Both Trump, who built the Taj Mahal, and [Carl] Icahn, who is the current owner, have taken millions from the property, driven it into bankruptcy, and left workers holding the bag… this struggle in Atlantic City sheds light on some important mystifications that need to be clarified if we hope to turn the tide against intensifying predatory assaults on American workers' standard of living… commondreams.org