Local and National Union News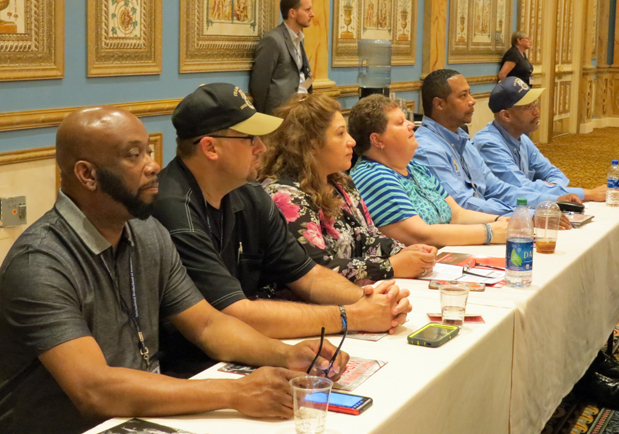 Teamsters from all across North America gather at 2018 Unity Conference
May 16, 2018 | Officers and trustees from Local 570 joined Teamsters from Across North America at the 2018 Unity conference this week to discuss building the union, political challenges and national organizing campaigns. "Every election year they say, 'this is the most important election in our lifetime," said General President James P. Hoffa. "Well guess what: in regards to the upcoming midterms, it's actually the truth. We've got to go to the polls and vote like never before." General Secretary-Treasurer Ken Hall delivered a report on the unions financials."Over the course of the past year, both our membership and our assets have increased - but we need to remain vigilant," Hall said. Hundreds of Teamsters took part in workshops that included "A History of Overcoming Challenges and Changes in the Workplace," "Determining Company Profitability," and "The War on Workers." Teamsters Photo: Local 570 leaders during the "War on Workers" workshop.
Older news stories can be found at Local News
| | | |
| --- | --- | --- |
| | | |
| | | |
| | | |
May 21, 2018 |

WORKERS' RIGHTS

| The Supreme Court has sharply restricted the rights of American workers to join with others to challenge their company for allegedly violating federal laws on wages, overtime pay or civil rights. The justices by a 5-4 vote Monday agreed with Trump administration lawyers and ruled employers may require workers give up their rights to join together in complaining if they are denied overtime pay or a minimum wage. In dissent, Justice Ruth Bader Ginsburg called the decision "egregiously wrong." She said the court upheld "these arm-twisted, take-it-or-leave it contracts" even though the labor laws of the 1930s have recognized "there is strength in numbers.".… Los Angeles Times [Note: Today's court decision does not affect union members.]
May 18, 2018 |

JOBS

| The falling U.S. unemployment rate is not creating a path to prosperity for low-wage workers who continue to struggle to make ends meet. A recent staff report by the Federal Reserve Bank of New York finds that the nation's 65 million workers currently scraping by in low-paying service jobs have few ladders to career success. As technology and globalization have increasingly taken hold, many traditional middle-class jobs that used to support a family have vanished… Teamsters
May 10, 2018 |

COLLECTIVE BARGAINING/ORGANIZING

| The Teamsters are endorsing legislation introduced by Sen. Bernie Sanders (I-Vt.) today that would enhance the ability of workers to organize and fight for better wages, benefits and working conditions on the job. The Workplace Democracy Act would ensure more hardworking Americans become part of the middle class by making it easier for workers to join a union. Besides repealing so-called "right-to-work" (RTW) laws in states across the U.S., the measure would halt intimidation tactics instituted by many companies that are trying to stifle unionization on their job sites… Local News